FIRST TIME IN FRIULI VENEZIA GIULIA
Enovitis in campo returns to the Northeast of Italy and, for the first time in its long history, goes to Friuli Venezia Giulia. A Region that, in addition to being universally known for the quality of its wine production, is also the historic "cradle" of grapevine nursery production, as well as home to some of the best Italian producers of white wines. As a border region, it is a hub not only for the whole of Northeast Italy but also for winemakers in Croatia, Slovenia, Austria and Hungary.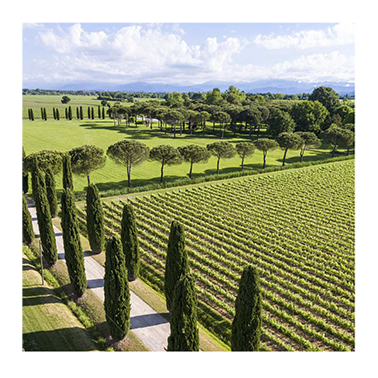 The vineyards hosted us the event belong to Tenuta Cà Bolani, in the heart of Doc Aquileia. With over 500 hectares, the estate is the largest expanse of vineyards in Northern Italy. A magnificent garden of vineyards and extraordinary biodiversity, protected by 999 cypresses along the avenues that line the plots.
A "border" territory, the landscape of Friuli Venezia Giulia is characterised by coastal plains, hills and mountains. Cà Bolani is located in Cervignano del Friuli, where the cultivation of vines has been recorded since Roman times, in a protected position between the Alps and the Adriatic.
Cà Bolani was purchased by the Zonin family in 1972. With its 900 hectares all told, of which 565 are vineyards, the estate grows mostly white grape varieties: Pinot grigio, Sauvignon blanc, Pinot bianco, Friulano, Traminer and Glera, cultivated with spurred cordon and guyot, with a planting density of 5,000 plants/hectare.